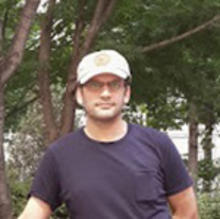 PhD student in Computer Science
I am PhD student in Computer Science and Engineering Dept. of Wright state University. My background is in Physics and Electrical Engineering (Bachelors and Masters). My current research focus is on the "Port Placement in Robot Assisted Laparoscopic Surgery" project in EREL.
In this project we try to construct a 3D model of patient abdomen during insufflation process of laparoscopic surgery. The constructed 3D model then can be aligned with internal images of abdomen to find target location inside patient body.
Our ultimate goal is to find the best entrance ports for robot arms so that surgeons experience the best target accessibility in an exact and precise way.
---
Favorite catchphrase?
The meaning of life is to give life meaning.
Most used app?
SoundCloud
Superhero power?
Watch earth from space
Favorite food?
Pasta and Kebab