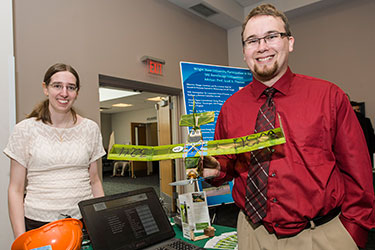 The Senior Design Showcase and Student Awards Ceremony is an annual event at Wright State University's College of Engineering and Computer Science.
Friday, April 28, 2017
Senior Design Showcase: 4 p.m., Student Union Skylight Lobby
Student Awards Ceremony: 4:30 p.m., Student Union Apollo Room
The purpose of our senior design projects is to combine academic knowledge with real-world engineering. Through partnerships with local and regional tech companies students collaborate with area employers to explore innovative concepts, design, research, and technology ventures.
Attendees are encouraged to stop by the Senior Design Showcase to check out our top senior design projects and speak with team members who were selected to represent their disciplines.
Top students, design teams, clubs, and student-voted teaching award winners are recognized at the Student Awards Ceremony.
2017 Registration Form