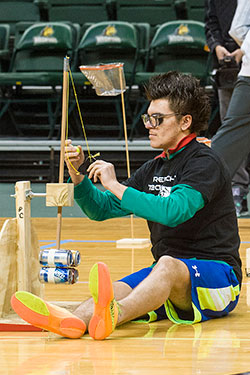 The Wright State University Trebuchet Competition was first held in 1999 as a competition to see who could build a trebuchet that could throw the farthest distance and with the most accuracy. The first competition was held in Wright State's Student Union as part of the National Engineers Week festivities and the TEAMS (Tests of Engineering Aptitude, Mathematics and Science) competition.
In 2001, the Trebuchet Competition format was changed to that of a tournament style event. As a result, the Competition was moved to the Ervin J. Nutter Center and held in a more spacious area, the McLin Gym. Student teams, consisting of six members and four trebuchets each, challenged one another to see whose trebuchets would net them the title of "Trebuchet Competition Champions." 2002 and 2003 Competitions were also held in McLin. In 2004, the Trebuchet Competition outgrew the McLin Gym and was moved to the Nutter Center's Main Arena.
With each passing year, the Trebuchet Competition has won more and more interest from high school students throughout the Miami Valley region.
If you're not sure where to get started, you may wish to consult the Trebuchet Design Guide (PDF) for more information.
---
Benefits
Provides a Higher Level of Learning: A trebuchet serves as a better educational tool than a simple bridge because the degree of sophistication necessary to analyze a bridge under ideal conditions can be quite challenging to the high school student who is studying mechanical engineering. As a result, it is highly likely that bridge designs may be based on hunches rather than on understanding. In addition, bridges are static, meaning they don't move much, so there's probably not a lot of classroom teaching going on. On the other hand, trebuchets are dynamic. They are fun to build and exciting to operate. Through the trebuchet, students can relate to the concepts of kinetic energy, potential energy, conservation of energy, machine efficiency, projectile motion, and more!
Real-time Learning: In a bridge competition, bridges that are tested are broken. Trebuchets can be tested and modified to work better and are never broken in the process. A much more rapid iterative design experience is the result, and every student walks away with a working trophy.
Fosters Good Team Dynamics: Teams work together in the design stages, incorporating competition strategies into their trebuchet designs. Good game plans make victory that much more likely; however, great game plans make champions!
Excitement. Nothing helps learning like excitement. Student quotes from past years include, "This was the best part of senior year!" and "Before this, I didn't know what I wanted to do. Now, I know... I want to be an engineer!" From audience members, "Man, this is so much fun to watch, you could charge admission!"
Low-cost: The Trebuchet Competition is designed to be inexpensive yet provide the educational value and excitement of more costly events. For instance, trebuchets can be made from scrap materials found in typical households. One of the most competitive trebuchets was made almost completely of cardboard!
Encourages Interaction with WSU Students and Faculty: Wright State students and faculty serve as volunteers to make the Trebuchet Competition a success. In addition to serving as judges, referees, scorekeepers, and director's assistants, they also love to talk about engineering at Wright State University and welcome any questions high school students may have about engineering as a college major or career choice.
---
Frequently Asked Questions
What's a Treb-u-what?

A trebuchet, pronounced treb-u-shay, was used in medieval times as a weapon to catapult heavy stones at enemy fortifications.

What then, exactly, is the Trebuchet Competition?

The Trebuchet Competition is a dynamic and thrilling sporting event in which student teams use trebuchets--which they design and construct as a classroom project--for hurling (no, not heavy stones, but lightweight squash balls) at the opposing team's trebuchet or flag.

Through a series of team matches, students put their trebuchets and game-winning strategies to the test, with winners advancing to the big tournament and trying to win bragging rights as the "Trebuchet Competition Champions!"

Where Does The Trebuchet Competition Really Begin... and What Do Students Learn?

For each and every trebuchet team, the Trebuchet Competition begins in the classroom, where students first learn about the trebuchet and its place in history. Students then gain an understanding of the engineering process as they perform research to design, build, and test a working trebuchet.

After researching the trebuchet's construction, students learn and use physics, as well as computational tools (available on the Web) to design and develop their own working trebuchets. Students perform experimental design as they try different construction concepts and vary design parameters. The construction dynamics are complex enough, and experimental design techniques and simulations prove to be invaluable.

In building their trebuchets, students also learn about the cost, quality, time, performance, manufacturability, usability, and reliability that are required to build the subjects of their designs.

After successfully achieving a working trebuchet, students gather into teams and learn about team structure and the value of teamwork. However, the hard work doesn't end there. Practicing together as a team becomes essential to achieving good performance on the playing field as game tactics become the deciding factor in distinguishing which is the better team.

Come match time, trebuchets and game-winning strategies are put to the test; the excitement and drama builds as fortunes shift with each and every trebuchet shot.

Is a Registration Fee Required?

No, a registration fee is not required; however, teams are responsible for the cost of building their trebuchets as well as the purchase of squash balls and protective eyewear to use during the Competition.

Ready to get started?

Here is a helpful guide to trebuchet design, which covers everything from engineering design principles to the physics of the trebuchet: Trebuchet Design (PDF)
---
Meet the Director
Craig Baudendistel is currently a faculty member in the Department of Mechanical & Materials Engineering and also serves as the Director of Engineering Mathematics for the College of Engineering and Computer Science. He is a Wright State Alum receiving his Bachelor's, Master's, and Doctoral degrees in mechanical engineering. Craig has volunteered with WSU's Trebuchet Competition for a number of years serving as an emcee, qualifying judge, and court judge.
---
Previous Competitions
The 1st, 2nd, and 3rd place teams are listed below for all previous trebuchet competitions (contests from before 2001, when it wasn't a tournament, are not listed). Complete results (brackets, etc.) are available, if you really, really, really want them, by contacting the contest director.
2015
Registrants
| Team name | School | Teacher |
| --- | --- | --- |
| Bobby Trebuchet | Covington High School | Shaun VanSkyock |
| I'd Hit That | Hamilton High School | Mike Smith |
| Twinkle Fairies | Hamilton High School | Mike Smith |
| Projectile Dysfunction | Hamilton High School | Mike Smith |
| The Lobbits | Upper Valley Career Center | Frank Harris |
| The Blueticks | Upper Valley Career Center | Frank Harris |
| The Other Guys | Fairborn High School | Jason Couse |
| The Underachievers | Fairborn High School | Jason Couse |
| Lone Wolf | Ponitz CTC | David Andrews |
| Team Throw Back | Ponitz CTC. | David Andrews |
| The Castle Crashers | Urbana High School | Kathryn Zaborowski |
| Fine$$ | Ponitz Career Technology Center | Mr. Andrews |
| Blue Devils I | Brookville High School | Christina Davis |
| Blue Devils II | Brookville High School | Christina Davis |
| The Black Pearl | Arlington High School | Kim Cortez |
| The Flying Dutchman | Arlington High School | Kim Cortez |
| The Queen Anne's Revenge | Arlington High School | Kim Cortez |
| MVCTC 1 | Miami Valley CTC | Eric Houston |
| MVCTC 2 | Miami Valley CTC | Eric Houston |
| MVCTC 3 | Miami Valley CTC | Eric Houston |
| MVCTC 4 | Miami Valley CTC | Eric Houston |
| MVCTC 5 | Miami Valley CTC | Eric Houston |
| Beans N Bacon | Franklin City High School | Jeff Blair |
| Arcanum 1 | Arcanum | Adam Kendig |
| Arcanum Big Mike | Arcanum HS | Adam Kendig |
| Anderson 1 | Anderson High School | Jeff Rodirquez |
| Anderson 2 | Anderson High School | Jeff Rodirquez |
| Anderson 3 | Anderson High School | Jeff Rodirquez |
2014
1st Place
Death Unleashed
Arlington High School
Arlington, OH
Advisor: Mrs. Kim Cortez
Captain: Dexter Wilson
Members:
Ryan McDowell
Arden McMath
Andrew Hunter
Marissa Missler
Brittan Reichley
Dani Heaster
Justin Rose
2nd Place
Death Row
Arlington High School
Arlington, OH
Advisor: Mrs. Kim Cortez
Captain: Matt Inniger
Members:
Madi Mains
Kenna Schmehl
Koltin Marquart
Allie Begg
Jessica Beck
Erin Helms
3rd Place
The Longshots
Upper Valley Career Center
Piqua, OH
Advisor: Frank Harris
Captain: Isaiah Burton
Members:
Jacog Albright
Chip Gade
Sam Barga
Devon Frey
Cayman DeVaudreuil
Craig Poeppelman
Registrants
| Team Name | School | Teacher |
| --- | --- | --- |
| Thunder Cats | Upper Valley Career Center | Frank Harris |
| Fresher Than Febreeze | Upper Valley Career Center | Frank Harris |
| Death Unleashed | Arlington High School | Kim Cortez |
| Death Trap | Arlington High School | Kim Cortez |
| Death Row | Arlington High School | Kim Cortez |
| Arcanum 1 | Arcanum High School | Adam Kendig |
| nWoD | Ponitz Carrer Technology Center | David Andrews and Doug Walters |
| Code Black | David H. Ponitz CTC | David Andrews and Doug Walters |
| JayHawks | Ponitz Career Technology Center | David Andrews and Doug Walters |
| Flying Hippos | Greenon High School | Sara Brewer |
| The Sharp Shooters | upper valley career center | Frank Harris |
| The Longshots | Upper Valley Career Center | Frank Harris |
| Fort Loramie | Fort Loramie HS | Laura Schmitmeyer |
| Torque Hard Play Hard | Carroll High School | Laurie Fuhr |
| TJSAT Blasters | Carroll High School | Laurie Fuhr |
| Tworque Team | Carroll High School | Laurie Fuhr |
| Blue Devils | Parkway Middle School |   |
| Skyhawks 1 | Fairborn | Jeff Couse |
| Skyhawks 2 | Fairborn | Jeff Couse |
| Dream Team Supreme | David H. Ponitz CTC | Mr. Dave Andrews |
| MVCTC 1 | Miami Valley Career Center | Eric Houston |
| MVCTC 2 | Miami Valley Career Center | Eric Houston |
| MVCTC 3 | Miami Valley Career Center | Eric Houston |
| MVCTC 4 | Miami Valley Career Center | Eric Houston |
2012
1st Place
RRRDT
Ponitz CTC
Dayton, OH
2nd Place
Heavy Artillery
Arlington High School
Arlington, OH
3rd Place
MVCTC1
Miami Valley CTC
Dayton, OH
2011
1st Place
Team LDS Again
Fairborn High School
2nd Place
Skyhawks 4
Fairborn High School
3rd Place
Skyhawks 2
Fairborn High School
Registrants
| Team Name | School | Teacher |
| --- | --- | --- |
| Brookville 1 | Brookville High School | Christina Davis |
| Brookville 2 | Brookville High School | Christina Davis |
| A.S.E.C. | Butler High School | Rich Sucher |
| Trebuchet?? | Carroll High School | Jeff Bohrer |
| Culturally Diverse | Carroll High School | Jeff Bohrer |
| Snap, Crackle, Pop | Carroll High School | Jeff Bohrer |
| Klein Krew #2 | Centerville High School | Gregg Klein |
| Klein Krew #1 | Centerville High School | Gregg Klein |
| Klein Krew #3 | Centerville High School | Gregg Klein |
| The King of Queens | Chillicothe High School | Joshua Queen |
| Under Over-Achievers | Chillicothe High School | Josh Queen |
| The Flying Squirrels | Chillicothe High School | Joshua Queen |
| Pretty Pink Princesses | Chillicothe High School | Joshua Queen |
| Senioritis | Chillicothe High School | Joshua Queen |
| Team Reptar | Chillicothe High School | Joshua Queen |
| Team Fiigha | Chillicothe High School | Joshua Queen |
| The Whitt's | Chillicothe High School | Joshua Queen |
| Ken and the Barbies | Chillicothe High School | Joshua Queen |
| All the Queen's Men | Chillicothe High School | Mr. Queen |
| The Boondocks | Chillicothe High School | Joshua Queen |
| The Foxy Five | Chillicothe High School | Joshua Queen |
| The Boomslangers | Chillicothe High School | Joshua Queen |
| Squash You | Chillicothe High School | Joshua Queen |
| Pink Panther | David H. Ponitz Career Technology Center | Dave Andrews/ Dan Markley |
| T3D (TED) | David H. Ponitz Career Technology Center | David Andrews |
| Team LDS Again | Fairborn High School | Bob Kaiser |
| Skyhawks 4 | Fairborn High School | Bob Kaiser |
| Skyhawks 5 | Fairborn High School | Bob Kaiser |
| Skyhawks 2 | Fairborn High School | Bob Kaiser |
| Skyhawks 3 | Fairborn High School | Bob Kaiser |
| BAD TADS | Greenon High School | Ms. Sara Brewer |
| Rock'em Sock'em Robochets | Greenon High School | Ms. Sara Brewer |
| Flying Hippos | Greenon High School | Ms. Sara Brewer |
| Two Guys One Treb | Hamilton High School | Mike Smith |
| Wiz Kids | Hamilton High School | Mike Smith |
| TrebuNazis | Hamilton High School | Mike Smtih |
| E-Lemon-ators | Kenton Ridge High School | John Woodason |
| Da Slams | Kenton Ridge High School | John Woodason |
| Foley's Foes | Kenton Ridge High School | John Woodason |
| Bennetts Beastly Boys | Kenton Ridge High School | John Woodason |
| Senior Shooters | Kenton Ridge High School | John Woodason |
| Shovers Crew | Kenton Ridge High School | John Woodason |
| LB # 4 | Liberty-Benton HS | Martha Boyd |
| LB #2 | Liberty-Benton HS | Martha Boyd |
| LB # 5 | Liberty-Benton HS | Martha Boyd |
| LB/Arlington #1 | Liberty-Benton HS/Arlington HS | Martha Boyd/Kim Cortez |
| LB #3 | Liberty-Benton HS/Arlington HS | Martha Boyd/Kim Cortez |
| Miami Trace Team 4 | Miami Trace High School | Jacqui Montgomery |
| Miami Trace Team 9 | Miami Trace High School | Jacqui Montgomery |
| Miami Trace Team 3 | Miami Trace High School | Jacqui Montgomery |
| Miami Trace Team 6 | Miami Trace High School | Jacqui Montgomery |
| Miami Trace Team 5 | Miami Trace High School | Jacqui Montgomery |
| Miami Trace Team 8 | Miami Trace High School | Jacqui Montgomery |
| Miami Trace Team 7 | Miami Trace High School | Jacqui Montgomery |
| Miami Trace 1 | Miami Trace High School | Jacqui Montgomery |
| Miami Trace Team 2 | Miami Trace High School | Jacqui Montgomery |
| MVCTC2 | Miami Valley CTC | Eric Houston |
| MVCTC3 | Miami Valley CTC | Steve Yeagle |
| MVCTC5 | Miami Valley CTC | Steve Yeagle |
| MVCTC6 | Miami Valley CTC | Steve Yeagle |
| MVCTC7 | Miami Valley CTC | Eric Houston |
| MVCTC8 | Miami Valley CTC | Eric Houston |
| MVCTC1 | Miami Valley CTC | Eric Houston |
| MVCTC4 | Miami Valley CTC | Steve Yeagle |
| Gondor | Ohio Hi Point Career Center | Andrew Pinkerton |
| Swag Performance | Ponitz C.T.C | Doug Walters |
| The Gladiators | Ponitz CTC | David Andrews |
| Team Hans | St Henry High School | Mr Wenning |
| Alpha Squadron | St Henry High School | Mr Wenning |
| Cougar -Chets | Thurgood Marshall | John Ciprian/Henry Noble |
| UVJVS TEAM 3 - STAMPER | UPPER VALLEY JVS | STEVE STAMPER |
| Team Apprentice | Upper Valley JVS | Frank Harris |
| UVJVS Team 2 - Juniors | Upper Valley JVS | D. Hance |
| UVJVS Team 1 - Seniors | Upper Valley JVS | D. Hance |
| Eagles | Walnut Hills High School | Karen Rowe |
| Team Dottie | Xenia High School | David Oldiges |
Videos
2010
1st Place
Arlington Team 1
Arlington High School
2nd Place (tie)
Cougars #3
Kenton Ridge
2nd Place (tie)
Barney and Friends
Carroll
Registrants
| Team Name | School | Teacher |
| --- | --- | --- |
| Fist Pumpin' Physics | Alter High School | Michael Thuente |
| The Bachelor | Alter High School | Mr. Thuente |
| Here be dragons | Alter High School | Mr. Thuente |
| Alaskan Pipeliners | Alter High School | Mr. Thuente |
| We're doing this to get out of school | Alter High School | Mr. Thuente |
| The Lumberjacks | Archbishop Alter High School | Mr. Thuente |
| TRY AGAINS | Archbishop Alter High School | Mr. Thuente |
| Make Me a Sammich! | Archbishop Alter High School | Michael Thuente |
| Dumbledore's Army | Archbishop Alter High School | Michael Thuente |
| The Albergators | Archbishop Alter High School | Michael Thuente |
| Arlington 2 | Arlington High School | Kim Cortez |
| Arlington 1 | Arlington High School | Kim Cortez |
| Barney and Friends | Carroll High School | Jeff Bohrer |
| Da Bears | Carroll High School | Jeff Bohrer |
| Teenage Mutant Ninjaturtles | Carroll High School | Jeff Bohrer |
| You People | Carroll High School | Jeff Bohrer |
| Sweet and Sassy | Carroll High School | Jeff Bohrer |
| 42 | Carroll High School | Jeff Bohrer |
| Brute Force | Cleveland Central Catholic | Ms. Amanda Corrigan |
| FTs | Fairborn HS | Bob Kaiser |
| McBurgerTown | Fairborn HS | Bob Kaiser |
| Team America | Fairborn HS | Bob Kaiser |
| Team LDS | Fairborn HS | Bob Kaiser |
| Border Patrol | Fairborn HS | Bob Kaiser |
| The Throwbacks | Galion High School Science Club | Fred G. Rinehart |
| Cougars #1 | Kenton Ridge H.S. | J. Woodason |
| Cougars #3 | Kenton Ridge H.S. | J. Woodason |
| Cougars #2 | Kenton Ridge H.S. | J. Woodason |
| MVCTC 2 | Miami Valley CTC | Steve Yeagle |
| MVCTC1 | Miami Valley CTC | Eric Houston |
| MVCTC 3 | Miami Valley CTC | Eric Houston |
| MHSCREAM | Miamisburg High School | Wayne King |
| Midevil Knights | Ponitz CTC | Dan Markley |
| The Trebuchet Massacres | Ponitz CTC | Mr. Andrews |
| Team Tool Swagg | Ponitz CTC | David Andrews |
| Team S.C.U.B.A. | Tolles Career and Technical Center | James Ruble |
| Hellz Rain | Tolles Career and Technical Center | James Ruble |
| UVJVS Team 2 | UPPER Valley JVS | Dennis Hance |
| UVJVS Team 3 | Upper Valley JVS | Dennis Hance |
| UVJVS Team 1 | Upper Valley JVS | Dennis Hance |
| The Wu-Tang Clan | Wapakoneta High School | Tom Moyer |
| Moy Toy's Sack Searchers | Wapakoneta High School | Tom Moyer |
2009
1st Place
Squashems
Kenton Ridge
2nd Place
Teachers: kat,pult
Miami Trace
3rd Place
Dan's Trebuchet Farm
Carroll
Registrants
| Team Name | School | Teacher |
| --- | --- | --- |
| Magic Jack Tech Support | Apollo Career Center | Mike DuBois |
| White Lightning | Apollo Career Center | Mike DuBois |
| Apollo 1 | Apollo Career Center | Mike DuBois |
| Los Muertos | Apollo Career Center | Mike DuBois |
| Death Squad | Arlington High School | Kim Cortez |
| The X Factor | Carroll High School | Jeff Bohrer |
| Dan's Trebuchet Farm | Carroll High School | Jeff Bohrer |
| Team Moneyshot | Carroll High School | Jeff Bohrer |
| WIND-MILLS | KENTON RIDGE HS - IND TECH II | J W MILLS III |
| COUGAR CRAZIES | KENTON RIDGE HS - IND TECH II | J W MILLS III |
| SQUASHEMS | KENTON RIDGE HS - IND TECH II | J W MILLS III |
| STONEHENGE HITMEN | KENTON RIDGE HS - IND TECH II | J W MILLS III |
| Teachers: kat¸pult | Miami Trace High School | Jacqui Montgomery |
| Team Ramrod | Miami Trace High School | Jacqui Montgomery |
| Miami Valley CTC | Miami Valley CTC | Eric Houston |
| Master Chief | Patterson Career Center | David Andrews |
| So Icey Ent. | Patterson Career Center | David Andrews |
| UVJVS Team 4 | Upper Valley JVS | D. Hance |
| UVJVS Team 3 | Upper Valley JVS | D. Hance |
| UVJVS Team 2 | Upper Valley JVS | D. Hance |
| UVJVS Team 1 | Upper Valley JVS | D. Hance |
| Urbana I | Urbana High School | Jim Zaborowski |
| Urbana II | Urbana HS | Jim Zaborowski |
| Team Lake Titicaca | Wapakoneta High School | Tom Moyer |