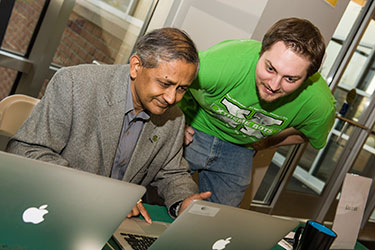 The Department of Computer Science and Engineering offers a program of graduate study leading to a Master of Science degree. The program strengths include the unique blend of faculty expertise, well-equipped computer science laboratory facilities, and a balance of theory, practice, hardware, and software. Degree requirements concentrate on the areas of software system design and analysis. Courses for the program are offered in the late afternoon and evening hours to serve the educational needs of practicing computer professionals.
Admission
Requirements
A Bachelor of Science degree in Computer Science, Computer Engineering, or a related field from an ABET accredited institution of higher education with a minimum computer science and computer engineering GPA of 3.0 and a minimum combined GRE score of 298 (1050 under the old scale).
The GRE requirement is waived for WSU-ECS applicants with a BS degree and minimum GPA of 3.3. This requirement is also waived for applicants from a U.S. institution with a graduate degree in a science or engineering field. Finally the GRE requirement is waived for non-degree CSE graduate students if their GPA for 9 or more hours of CSE graduate courses is 3.3 or higher.
Students may be admitted conditionally if they have an undergraduate grade point average of 2.7 or above and at least a 3.0 grade point average in all courses listed below.
Students applying from overseas will need to provide a TOEFL score for admission to the program. Below are the TOEFL requirements.
Internet Test Score - 79-80 minimum
Paper Test Score - 550 minimum
Computer Test Score - 213 minimum
How to Apply
Graduate students should apply for admission through Wright State's Graduate School.
Course Prerequisites
Courses covering computer programming, data structures, theory of computation, digital circuits, computer organization, and operating systems. The materials covered in these courses should be equivalent to, respectively, CS 5100, CEG 6350, and CEG 5310 at Wright State University.
Math and Science Prerequisites:One year sequences in calculus and calculus-based physics, as well as knowledge of linear or matrix algebra, ordinary differential equations, probability, and statistics.
Degree Requirements
Students must complete a total of thirty (30) graduate credit hours in computer science and computer engineering (CS/CEG), of which more than half should be from computer science (CS).
The Master's of Science program offers both thesis and non-thesis options.
Thesis Option
The thesis option requires satisfactory completion of a master's thesis within a program of study consisting of the Computer Science core courses and
30 graduate credit hours in CS/CEG courses at least one (1) formal CS/CEG course at the 7000/8000 level
No more than three (3) hours of independent study and nine (9) hours of thesis work
Non-Thesis Option
The non-thesis option allows a larger number of the credit hours to be earned through formal coursework. Students must complete the Computer Science core courses and
At least five (5) courses at the 7000/8000 level
No more than three (3) hours of independent study, which counts as a 6000-level course
Core Courses
The Computer Science Core courses require choosing one course from each category below:
Theory

CS 7200 Algorithm Design and Analysis OR
CS 7220: Computability and Complexity

Software

CS 7100: Advanced Programming Languages OR
CS 7140: Advanced Software Engineering

Systems and Applications

CEG 7370: Distributed Computing OR
CS 7700: Advanced Database Systems
All CS and CEG graduate courses, 6000 level and above, listed in the catalog may be used to satisfy the 30 credit hour requirement, with the exception of CEG 6350 Operating Systems Internal Design.
Students must complete all the requirements for a master's degree within six (6) years of the date the student matriculated. Courses older than six (6) years cannot be used toward degree requirements.
A graduate student who receives more than six (6) credit hours of grades C, D, F, X, or U in computer science or computer engineering graduate courses will be recommended to the Graduate School for dismissal at any time the student's CS/CEG graduate GPA (including the repeated courses) falls below 3.0.
A maximum of nine (9) graduate credit hours may be transferred after admission to the program by petitioning the department's Graduate Studies Committee.