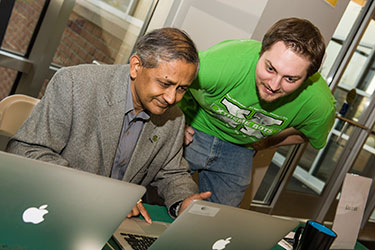 Continue your education with a Master of Science degree with a focus on Computer Science. This degree concentrates on the areas of software system design and analysis. 
We have a mixture of courses that can be taken during the day, evening, or online, giving working professionals a pathway to earn an advanced degree.  When you graduate you will be able to apply abstract reasoning to complex problems in computer engineering. You will also be able to use current computer engineering techniques to solve a broad range of problems.
Program strengths include
Faculty expertise
well-equipped laboratory facilities
a curriculum that combines theory, software, and hardware
opportunities to work with faculty members on research projects
---
Admission
The admission process is competitive, normally you should have:
A Bachelor of Science degree in Computer Science, Computer Engineering, or a related field. We prefer this to come from an ABET accredited program.
with at least a GPA of 3.0
and at least a combined GRE score of 298 (we recommend this if you are going to apply for graduate assistantships)
The GRE requirement is waived: 
for applicants with a Bachelor's degree in Computer Science or Computer Engineering from Wright State University, and at least a GPA of 3.3
for applicants with a graduate degree in a science, math, or engineering field from a U.S. institution
If you do not meet the admission requirements you may still be considered for admission. We will take into account your current academic achievements when making this decision. This includes the following.
an undergraduate GPA of 2.7 and above
a minimum undergraduate GPA of 3.0 in the undergraduate level program prerequisites
International Admissions Requirements
Prerequisites
Program Prerequisites
At least one year of formal coursework in computer programming. Formal coursework in data structures, computer organization, and operating systems is also required. 
The materials covered in these courses should be equal to Wright State University courses:
CS 3100 Data Structures and Algorithms
CEG 4350Operating Systems Internals and Design
CEG 3310 Computer Organization
If you do not have a year of formal coursework in computer programming, you may show programming proficiency by:
taking an exam upon enrollment
OR by taking CS 5160 - Fundamentals of Computer Science.   
Students lacking other prerequisite coursework may be assigned additional prerequisite courses upon admission.
Math Prerequisites:
One year sequence in calculus
Knowledge of linear or matrix algebra
Coursework in probability, statistics and discrete math is preferred
---
How to Apply
Graduate students should apply for admission through Wright State's Graduate School.
---
Degree Requirements
The entire program requires no less than thirty (30) semester hours of course work. This includes the computer science core courses, and the completion of the Thesis or Non-Thesis option.
Computer Science and Computer Engineering courses at the 6000 level and above can be used towards your degree.  Program level prerequisites including CEG 6350 Operating System Internals and Design do not qualify.
Core Courses
Choose one course from each category below to complete a total of nine (9) credit hours.
Theory

CS 7200 Algorithm Design and Analysis 
CS 7220: Computability and Complexity

Software

CS 7100: Advanced Programming Languages 
CS 7140: Advanced Software Engineering

Systems and Applications

CEG 7370: Distributed Computing 
CS 7700: Advanced Database Systems
Thesis Option
maximum nine (9) credit hours of thesis
maximum three (3) credit hours of independent study
minimum nine (9) credit hours of formal coursework, with a maximum of six (6) credit hours at the 6000 level 
submission of an approved computer science Master's thesis
Non-Thesis Option
maximum of three (3) credit hours of independent study
minimum of sixteen (16) credit hours of formal coursework, with a maximum of six (6) credit hours at the 6000 level 
If you have been assigned prerequisites during admission into the program these must be completed during the first year of your program.
Course Schedule Planning Guides
 Dismissal from the Program
You can find all admission and dismissal guidlines on the Graduate School Poplicies and Procedures page.