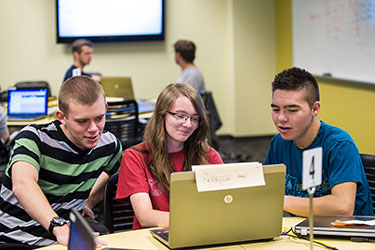 The objective of this minor is to provide students who have a background in engineering or science with a structured and coherent concentration of study in computer science. The program consists of 22-23 semester hours covering a basic introduction to computer science, data structures, and an application area chosen from operating systems, software engineering, or database management systems.
Admission
Requirements
Students must have a 2.5 GPA or higher.
Application Procedures
To apply for a minor, please:
Visit your Wings Express account.
Choose the Student and Financial Aid tab.
Choose Registration and Records.
Under the Registration and Records menu choice is Major/Minor Change request.
Program Guide
Required Courses
CS 1180 Computer Programming I (4 credit hours) or CS 1161 Intro to Computer Programming II (4 credit hours)
CS 1181 Computer Programming II (4 credit hours)
CEG 2350 OS Concepts and Usage (4 credit hours)
CEG 3310 Computer Organization (4 credit hours)
CS 3100 Data Structures and Algorithms (4 credit hours)
MTH 2570 Discrete Math for Computing (3 credit hours) OR CS 2200 Discrete Structures and their Algorithms (4 credit hours)
General Performance
Students must attain an average GPA of 2.0 for all courses in the minor.
Registration Procedure
Request for Registration Permission https://www.engineering.wright.edu/cse/request-for-registration-permissi...
If Course is Closed
Fill out the Registration Activity Form. (Registration Activity Form can be found on the RaiderConnect Forms page)
Obtain an approval signature from the Professor of the course.
Return to the Computer Science and Engineering Department to get the Department Approval Stamp.
Finally, take the form to the Registrar, located in RaiderConnect in the Student Union.
If Course is Not Closed and You are a Pre-Major or Non-Major
Fill out the Department of Computer Science and Engineering Request for Registration.
Turn into the Computer Science and Engineering Department.
The processing of your registration form will take 24-48 hours, in which you will be able to register online using Wings Express. You will ONLY be contacted if there is a problem.
Related Links