Major-Specific Student Organizations
Association for Computing Machinery

Association for Computing Machinery (ACM) The Wright State Student Chapter of the Association for Computing Machinery is composed of undergraduate and graduate students with interests in all aspects of computers and information processing. The Student Chapter sponsors events such as lectures by distinguished speakers and site visits to technology companies. Club members have the opportunity to participate in the ACM International Collegiate Programming Contest and the ACM Student Research Competition.
Contact: Goonmeet Bajaj
Faculty Advisor:Erik Buck
---
College Women in Computing Club
The College Women in Computing Club (CWCC, previously Women in Computing) goals include: encouraging the success of all female students pursing degrees in computer-relatedfields by providing mentorship and social support, to advocate the growth of women in technology-related fields through visits to local area middle and high schools, and to provide access to successful women working in business and academia for leadership and support.
Contact:
Faculty Advisor: Karen Meyer
---
IEEE/Computer Society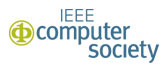 The IEEE Computer Society's vision is to be the leading provider of technical information and services to the world's computing professionals. The society is dedicated to advancing the theory, practice, and application of computer and information processing technology. Through its conferences, application-related, and research-oriented journals, local and student chapters, technical committees, and standards working groups, the Society promotes an active exchange of information, ideas, and technological innovation among its members.
Contact: Travis Doom
Faculty Advisor: Travis Doom