Imagine creating the "next big thing".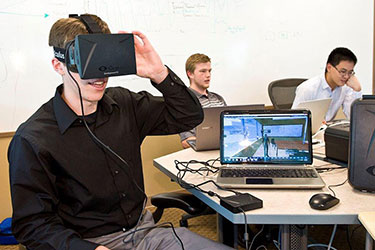 Computer engineers' research, design, create, manufacture, test, and improve computer systems. The focus of this major is on hardware and the integration of hardware and software.
With a Bachelor of Science in Computer Engineering, you will be ready for a wide range of jobs. You can design new systems and write new programs to create a more efficient way of doing things. 
Program Guide 
We will revise our programs to keep them as current as possible. Your advisor will go over your options if there is a change. 
Job Spotlight from the Bureau of Labour Statistics
2015 Median Pay - $111,730 per year
Entry Level Education – Bachelor's degree
Jobs in 2014 – 77,700
Projected Jobs in 2024 - 80,100
2015 Median Pay - $100,240
Entry Level Education – Bachelor's degree
Jobs in 2014 – 146,200
Projected Jobs in 2024 – 158,900
How to Apply
All students who are interested in an engineering and computer science degree should apply through the Wright State University's Office of Undergraduate Admissions. Applicants should indicate their desired major on their application.
If you meet university admission requirements you are admitted to the college. Direct Admit status is only available to Direct From High School students who apply for fall admission; and have a 3.25 GPA or better and have no less than a 25 Comp ACT or 1160 SAT score. Direct Admit students are advised in the department of their major within the college.
---
High School classes that will help with your undergraduate degree include:
Mathematics: College Algebra/Trigonometry, Probability/Statistics, Geometric proofs
Science: Biology, Chemistry, Physics, and other subjects utilizing the scientific method
English: Formal argumentation, critical thinking, clear communication of intent
Computer Programming
You can also check out College Credit Plus options.
Focus Area
This degree allows you to focus on wireless technologies with 4000 level elective courses.
Wireless
You are not required to do all the elective courses in your focus area. Courses marked with an asterisk are essential to the wireless focus.
Computer Engineering Electives
CEG 4400 Computer Networks*
CEG 4410 Mobile Computing*
CEG 4450 Sensor Networks and Systems
Cost of School
There are many ways to offset the cost of your degree. With our program, you will be eligible for paid internships starting your sophomore year. There are also scholarships and other financial aid options. For more information check out the university's financial aid section.
ABET Accreditation
Objectives and Outcomes
Summer 2016 - Spring 2017

| Annual Student Enrollment | Graduation Data |
| --- | --- |
| 189 | 34 |

Educational Objectives:
Program educational objectives describe what graduates are expected to attain within a few years after graduation.  Three to five years after matriculation, graduates of our Bachelors of Science in Computer Engineering program will be:
Expert: Graduates of the Computer Engineering program are employable as computing professionals and will be recognized by their employers as well-prepared for their career in computing.
Adaptive: Graduates apply education as a lifelong process and are well prepared for continuing studies, including graduate studies.
Engaged: Graduates demonstrate appreciation for the professional, social, ethical and leadership roles of computing professionals.
Broad: Graduates have a knowledge of computing principles that includes all levels of modern computational architectural/infrastructure, network communications, operating systems and diverse platforms including component-based hardware/embedded/software systems.
Student Outcomes:
Students who complete the Bachelor of Science in computer engineering will have:
an ability to apply knowledge of mathematics, science, and engineering
an ability to design and conduct experiments, as well as to analyze and interpret data
an ability to design a system, component, or process to meet desired needs within realistic constraints such as economic, environmental, social, political, ethical, health and safety, manufacturability, and sustainability
an ability to function on multidisciplinary teams
an ability to identify, formulate, and solve engineering problems
an understanding of professional and ethical responsibility
an ability to communicate effectively
the broad education necessary to understand the impact of engineering solutions in a global, economic, environmental, and societal context
a recognition of the need for, and an ability to engage in life-long learning
a knowledge of contemporary issues an ability to use the techniques, skills, and modern engineering tools necessary for engineering practice.