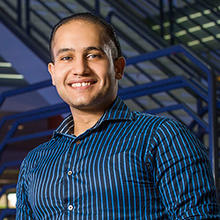 Biomedical Engineering Student
Muhammed Hamdan is a graduate biomedical engineering student at Wright State University, focusing in biomedical signal and image processing. He joined the EREL team and became a research assistant in his undergrad-junior year (Jun of 2015). His projects integrate new technology in surgical settings to optimize the design of laparoscopic and minimally invasive surgical tools; aiming for enhancing surgeons performance.
---
Favorite catchphrase?
Are you serious?!
Most used app?
WhatsApp
Superhero power?
I'm mean SQUATS, bro!
Favorite food?
Mansaf - Google it