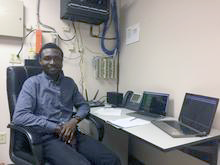 Originally from the African nation of Nigeria, Ademola Ikusan decided to make the journey to the United States for graduate school specifically to study cyber security. Ikusan chose Wright State University due to the low cost of living, research opportunities, and the Cyber Security master's degree program. Ikusan became interested in cyber security due to his background in computer and network security and strong belief that cyber security is an area of study essential to today's world. After visiting the Brandeberry Career Development Center for technical resume and internship search assistance, Ikusan attended a networking event where he met employers from Menya Communications, who later offered him an interview. After successful completion of the interview, he was offered a position as Cyber Security Intern. Menya Communications is a Dayton-based consulting firm that provides state-of-the-art strategies and solutions for media communications and cyber security. Ikusan was excited by this opportunity with Menya Communications, as it would offer him the ability to work with penetration testing, audit and assessments, program development, and security awareness. 
Currently in his internship, Ikusan reports that he has learned a great deal related to his field of study, such as configuring networking devices and end-points securely, creating and configuring in-house cloud infrastructure and off-site backup infrastructure, running assessments of updates, backups, and vulnerability and risk assessments, configuring Firewall SIEM for intrusion prevention and detection of attacks, and working with NIST 800-53 and FedRAMP frameworks for various tasks, among many other things. 
Ikusan advises CECS students seeking an internship experience to get all the knowledge you can in your field and be outspoken; students need to network and communicate with professionals as much as possible and learn how to sell yourself well. Networking and catching the attention of an employer is critical to being considered for an internship position, so it is imperative to practice and refine these skills and take advantage of every opportunity to speak to employers that you can find.