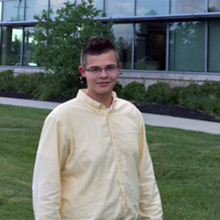 Senior Biomedical Engineering major Zach Brooks has greatly enjoyed his recent internship with Mane, Inc. where he had the opportunity to put his biomedical engineering skills to good use.  Brooks chose biomedical engineering due to his desire to work in medicine and a strong interest in engineering and neuroscience. Wright State was a perfect fit for him as it was both close to home and offered an excellent biomedical engineering program. After applying for the internship opportunity with Mane through the Wright State Career Center database, he became even more interested to work for them after learning about the in-depth nature of the internship and receiving a tour of the facilities. 
Brooks shares some of the many positive aspects of his time with Mane:
"Everyone at Mane is very friendly and eager to help each other. One of the key ideas shared among the individuals in management is the idea of empowering their employees, which creates a very positive work environment. During my internship, I was able to work on a variety of tasks and projects. This exposed me to a lot of different things that I might encounter in the work environment and gave me invaluable experience and tools that I will be able to expand on in my next internship. I also had the opportunity to create meetings with outside companies, as well as present my research and ideas to groups.
Mane worked around my summer class schedule, allowing me to work full time. I was given many interesting projects, and I was even able to choose a few of my own to work on. Being able to work independently under the supervision of an engineer gave me a real feel of what to expect in the field of engineering. This approach gave me the ability to learn a lot about each individual project and also helped reinforce interaction with other individuals within the company in order to gain necessary information for projects.
Mane is a very good company to intern with. I would recommend Mane to anyone with a desire to learn critical engineering skills. Interning with Mane helped me gain skills and experience in a professional atmosphere and I would love to go back in the future."