Industrial and systems engineers work in one of the broadest fields of engineering. Industrial engineers are sometimes called "productivity people" and "efficiency experts"—when it comes to quality control, you are the pro.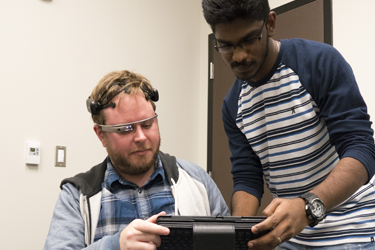 Industrial and systems engineering (ISE) focuses on doing more with less—doing things better, cheaper, faster, more safely, and with less waste. Instead of designing bridges, machines, or circuits, industrial engineers will engineer all parts of a process—people, machines, materials, information, and energy—to make a product or provide a service.
Industrial engineers are employed in diverse work environments, including aerospace, health care, banking, manufacturing, defense, energy, technology, retail, and transportation. Depending on your specialization, you could find yourself working to reduce wait times in amusement parks, designing layouts for parking lots or manufacturing plants, or improving safety for patients and workers in hospitals.
With their versatile skills, industrial and systems engineers can work in nearly any industry or organization, including government agencies and consulting firms.
---
How to Apply
All students who are interested in an engineering and computer science degree should apply through the Wright State University's Office of Undergraduate Admissions. Applicants should indicate their desired major on their application.
If you meet university admission requirements you are admitted to the college. Direct Admit status is only available to Direct From High School students who apply for fall admission; and have a 3.25 GPA or better and have no less than a 25 Comp ACT or 1160 SAT score. Direct Admit students are advised in the department of their major within the college.
---
ABET Accreditation
Annual Student Enrollment: 101 in Fall 2017
Graduation Data: 16 in Spring 2017
Educational Objectives:
WSU's ISE program will produce industrial and systems engineers who will:
Objective 1: Engage in a career path in ISE or a related field.
Objective 2: Participate in life-long learning through continuing professional education.
Objective 3: Work in a team environment and communicate effectively, both in written form and orally.
 
Student Outcomes:
The following student outcomes of the industrial and systems engineering program will prepare graduates to attain the program educational objectives:
an ability to apply knowledge of mathematics, science, and engineering
an ability to design and conduct experiments, as well as to analyze and interpret data
an ability to design a system, component, or process to meet desired needs within realistic constraints such as economic, environmental, social, political, ethical, health and safety, manufacturability or sustainability
an ability to function on multidisciplinary teams
an ability to identify, formulate, and solve engineering problems
an understanding of professional and ethical responsibility
an ability to communicate effectively
the broad education necessary to understand the impact of engineering solutions in a global, economic, environmental, and societal context
a recognition of the need for, and an ability to engage in life-long learning
a knowledge of contemporary issues
an ability to use the techniques, skills, and modern engineering tools necessary for engineering practice