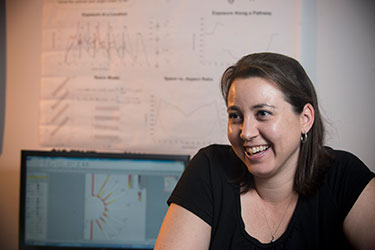 The Department of Biomedical, Industrial and Human Factors Engineering, Wright State University's College of Engineering and Computer Science and the Raj Soin College of Business offer the Master of Engineering Innovation and Entrepreneurship (MEIE) program. The MEIE program prepares students for innovation and entrepreneurship through seven key goals:
To expose students to the concepts of entrepreneurship from both a business and engineering perspective
To emphasize problem solving and creative thinking
To provide first‐hand experience in generating a business plan
To provide students with practical industry experience from concept development in preparation for market introduction
To expose students to multiple engineering and business disciplines, and to work in diverse, multicultural teams
To provide students the opportunity to interact with, and learn from Dayton area high tech entrepreneurs
To produce graduates who have the technical expertise and the keen understanding of the business environment needed to succeed in entrepreneurial activities
Admission
Who Should Apply
The MEIE program seeks individuals with a solid undergraduate record, irrespective of major, who have a strong desire to pursue success in entrepreneurial endeavors. Applicants from any undergraduate major will be considered, though students with a background in engineering, business, or science are likely to be better prepared for the program.  Graduates will have a distinct advantage, having acquired both technical expertise and business acumen through the program's unique combined perspective. Applicants with one or more years of experience in engineering or business are encouraged to apply.
Requirements for Regular Admission
A completed bachelor's degree with a minimum 2.7 GPA
Competent GRE scores for applicants whose undergraduate degree is not from an ABET‐accredited engineering program (GMAT scores will be considered for applicants whose undergraduate degree is not in engineering).
Additional prerequisite coursework may be required for students whose undergraduate degree is not in engineering.
How to Apply
Graduate students should apply for admission through Wright State's Graduate School.
Coursework
Foundation Accounting Course: 3 credit hours*
Core Courses: 17 credit hours
Technical Track: 9 credit hours (choose from several technical engineering tracks)
Team Project: 6 credit hours (taken over two semesters during the final program year)
Total: 32‐35 credit hours
*if no previous accounting coursework