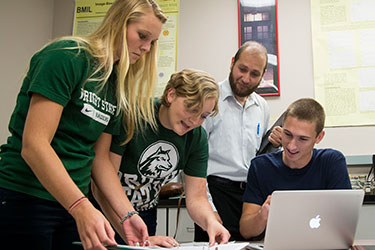 Biomedical Engineering (BME) is the application of engineering principles and methods to solve problems in the medical and biological areas. Students in this program work with living systems, apply advanced technology to complex problems in medical care, and observe how their work directly impacts the delivery of human health care. Specialized areas of BME include: bioinstrumentation; biomaterials; biomechanics; cellular, tissue, and genetic engineering; clinical engineering; medical imaging; orthopedic engineering; rehabilitation engineering; and systems physiology.
---
Career Opportunities
A master of science degree in biomedical engineering prepares students for employment in many industries including government and medicine. This profession is continually expanding as a result of the immense interest from public, government, scientific, and medical communities to improve quality of life. Employment opportunities include working with artificial organs, electrical muscle stimulators, drug delivery systems, artificial joints, prosthetics, and medical imaging technologies.  CNN Money lists Biomedical Engineering as the number one engineering field in America!
Master Course-Option Focus Areas
Biomaterials - Faculty Advisors
Medical Devices - Faculty Advisors
Medical Imaging - Faculty Advisors
Biomedical Systems Engineering - Faculty Advisor
Neuroengineering - Faculty Advisors
Admission
Entrance Requirements
GPA of at least 2.7 in undergraduate course work.
GRE score of at least 150 Quantitative, at least 145 Verbal and a 3.0 in Analytical Writing for applicants (1) whose undergraduate degree is not in engineering or (2) whose undergraduate degree is not from an ABET-accredited engineering program
Additional pre-requisite course work may be required if your undergraduate degree is not in engineering.
Letters of recommendation are recommended but not required.
How to Apply
Graduate students should apply for admission through Wright State's Graduate School.
Degree Requirements
Minimum 30 semester hours
Minimum 15 hours of 7000 level or above from BIE Department
Maximum 8 hours thesis
Maximum 4 hours independent study or non-thesis research
BME or IHE 6010 - Ethics in Engineering Research & Practice
Minimum 18 hours of program specific courses
Minimum 6 hours of math-intensive coursework
BIE Department math-intensive courses
BME 7110 Biomedical Signals (3 credit hours)
BME 7521 Advanced Biotransport (3 credit hours)
EGR 7050 Design & Analysis of Egr Experiments (3 credit hours)
IHE 6980 Fundamentals of Probability & Statistics (4 credit hours)
IHE 7300 Research Methods in HFE (3 credit hours)
IHE 7510 Data Mining (3 credit hours)
IHE 7711 Integer Optimization and Heuristics (3 credit hours)