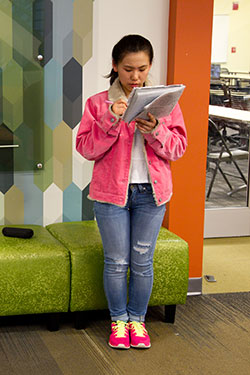 Industrial and Human Factors Engineering (IHE), a highly customizable degree in the College of Engineering and Computer Science, prepares working professionals towards effective design and operation of a variety of systems in healthcare, manufacturing, aerospace, distribution, retail, and many others. While industrial engineers utilize the tools of simulation, optimization, computing, and statistics to design and improve modern technology-laden systems, human factors engineers design systems that effectively integrate human abilities/limitations and machines/tools. Students enrolled in the program are diverse in both geography and work-profile.
Why WSU's Industrial and Human Factors Engineering Program?
The BIE Department offers both a Master of Science Degree and a PhD in Engineering focus area in IHE. The Master of Industrial and Human Factors Engineering program has a non-thesis alternative in addition to the traditional thesis option. Students choose their coursework in one of five available tracks: Human-Computer Integration, Logistics and Supply Chain, Systems Modeling, Ergonomic Engineering and Neuroengineering. All tracks offer hands-on courses and laboratories in state-of-the-art research facilities in the Russ Engineering Center and the new Neuroscience-Engineering Collaboration Building.
---
Career Opportunities
The demand for Industrial and Human Factors Engineers is very high, with graduates hired in industry, government agencies, industrial research and development, and consulting firms. Industrial and Human Factors Engineering is consistently listed as one of the most satisfying career areas in national surveys, as well as one with many job openings in the region.
Master Course-Option Focus Areas
Admission
Entrance Requirements
GPA of at least 2.7 in undergraduate course work.
GRE score of at least 150 Quantitative and at least 142 Verbal for applicants (1) whose undergraduate degree is not in engineering or (2) whose undergraduate degree is not from and ABET-accredited engineering program.
Additional pre-requisite course work may be required if your undergraduate degree is not in engineering.
Letters of recommendation are recommended but not required.
How to Apply
Graduate students should apply for admission through Wright State's Graduate School.
Degree Requirements
Minimum 30 semester hours
Minimum 15 hours of 7000 level or above from BIE Department
Maximum 8 hours thesis
Maximum of 4 hours independent study or non-thesis research
BME or IHE 6010 - Ethics in Engineering Research & Practice
Minimum 18 hours of program specific courses
Minimum 6 hours of BIE Department approved courses with a mathematics or statistics content
Preapproved Math/Statistics courses
BME 7110 Biomedical Signals (3 credit hours)
EGR 7050 Design & Analysis of Egr Experiments (3 credit hours)
IHE 6120 Probability for Engineers (3 credit hours)
IHE 6130 Statistics for Engineers (3 credit hours)
IHE 7300 Research Methods in HFE (3 credit hours)
IHE 7510 Data Mining (3 credit hours)
IHE 7711 Integer Optimization and Heuristics (3 credit hours)