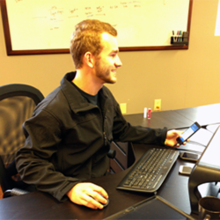 Computer Science major Caleb Smith had many reasons for deciding to attend Wright State, such as proximity to family, affordable tuition, scholarships, and the Computer Science program. He chose to major in Computer Science due to his interest in software development and the bright job outlook for the Computer Science field.
Recently Smith had the opportunity to intern with Redwall Technologies, where he was able to gain more hands-on experience outside of the classroom as well as work in area of particular interest to him, software development for Android phones. He believes that Redwall employees are highly intelligent and educated in their field and demonstrate admirable passion for their work. 
Smith reports that he enjoyed seeing his work being implemented into Redwall products, and additionally states, "Being with Redwall has shown me how to view the problem in a different perspective, and how to solve it using software development."
Smith also adds that he appreciates the Brandeberry Career Development Center for their excellent assistance with improvement of his resume and guidance on his job search.