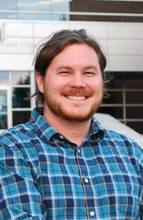 National Military Intelligence Association scholarship recipient David Sutherin has big ideas about the impact of rapidly developing technology on US National Security and hopes his contributions can assist in the preparation, detection, and reaction to cyber security threats against the US. A senior at Wright State University, Sutherin is majoring in the Bachelor of Science Computer Science program and has taken several cyber security courses. Sutherin is currently employed as an Associate Cybersecurity Analyst with AllendeVaux & Company, where he works to ensure information security of clients through activities such as ethical hacking and penetration testing. Due to his outstanding performance, affable nature, and clear demonstration of advanced understanding of cyber security, Sutherin was selected to be highlighted for a BCDC Student Success Story. Continue reading to hear Sutherin explain more about his background.
Why did you choose your major?
First, I wanted to work in a field that allowed me to use technical knowledge for creative applications. I don't think a lot of people recognize that about engineering—it's a creative discipline!  You're coming up with unique solutions to problems, which is awesome! Moreover, I've always liked working with computers and knowing that it's a field that won't go anywhere anytime soon, I felt confident about my ability to build a career making use of my degree.
Why did you choose Wright State?
I've had family members attend Wright State, and I know the engineering department here has a good reputation. What sealed the deal, though, was that Wright State is convenient and affordable.
How did you find your internship?
I heard about my current internship from a faculty member that I've stayed in regular contact with (Dr. Adam Bryant). Shortly after, I also saw the internship listed in Sheryl Kent's weekly internship digest email.
Why did you choose that specific company?
After my previous internship and attending several information security conferences, I became interested in pursuing a career in cyber security—specifically ethical hacking. My current employer was looking for interns to work as part of a team that does penetration testing, so I applied and got the job!
What have you learned or gained from your internship experience?
I've learned a lot about computer networks, ethical hacking tools/techniques, and technical report preparation, and I've gained experience in a remote-employment work environment.
Any advice for students seeking an internship?
First, don't be afraid to apply for positions you're not 100% qualified for! Position descriptions are a "wish list" of everything the employer would like to have in an intern, but not having experience in all of the areas they list will not necessarily disqualify you for the position. I felt incredibly underqualified for my current position, but my eagerness to work in this field helped secure my position with the company.
Second, Prepare for your interviews and ask questions! Do some research about the company. Find out what types of projects they work on and ask about them in an interview. You don't need to mention a specific project, but showing an interest in the company and the work they do will go a long way. Also, look for the company and their employees on LinkedIn—it will help you get a feel for what the company does and is a great way to network.
Also, in interviews, ask for advice about how you can improve yourself professionally. Showing that you're passionate about your field, regardless of whether you end up working with that company, makes you a more attractive candidate and can yield some useful insights!