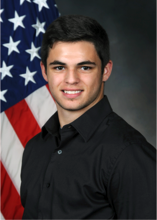 Wright State sophomore Derek Desentz is not only a double major in Computer Science and Computer Engineering, he is also a "double intern" as well, doing internships for both AFIT and NextGen Federal. Desentz reports that he learned of both internships through the assistance of the Brandeberry Career Development Center and the EGR 1900 Exploring Engineering Internships course. 
Desentz states that he chose to work for AFIT and NextGen Federal because they both do work for the Department of Defense, are located in Dayton, and are close to WPAFB. AFIT, the Airforce Institute of Technology, provides defense-focused continuing education and technological research for the US military. NextGen Federal is an IT service provider that specializes in advanced software solutions and mission and business support services. Although Desentz's internship with NextGen Federal has finished, he plans to continue interning with AFIT for the foreseeable future. 
Desentz shares that he has learned a great deal from his internship experiences; at NextGen Federal, he worked on getting software packages to install properly and creating documentation reports for the engineers. For his final project, he came up with a creative solution utilizing some of his work with AFIT to get a WebGL based package to run on an Android phone. While at AFIT, he has worked on numerous projects utilizing programming and scripting languages he had not been exposed to previously. As a result, he has expanded his knowledge of Java/Kotlin, C/C++, JavaScript/HTML/CSS, and MatLab, working primarily on Arch Linux and Ubuntu operating systems. Desentz has also learned useful soft skills, such as how to work successfully on a team and be a productive team member. He has realized the value of asking questions to ensure he is doing his tasks correctly, while also showing his comprehension and progression on current projects. He believes his internships have been a key to his success so far and have opened many doors for his future. 
While only just completing his sophomore year, Desentz's experiences have provided many invaluable insights that other students seeking an internship can benefit from. Desentz shares the following advice: 
An internship is all about selling your potential. You do not have to have all of the technical skill sets laid out in the application to apply for the position. As long as you have the base knowledge of what they are looking for, all that you need to do is show them is that you are capable of learning what is required for the job. Employers want to see growth in you as an employee, so a good way of showing this is by learning new skill sets on the job, comprehending what the current task is for and what your purpose is to help, and communicating effectively to be seen as a productive team member. When you apply for these positions act like a professional. Show your interest by dressing nicely, making eye contact while talking, and rehearsing your key points about yourself before talking to them at an interview or career fair. These key points need to be your selling points for your potential. Do research on the company you are interested in and apply your potential to their work. By doing all of these things I was able to have a successful interview, a successful summer internship, and this lead to my company extending my contract for the foreseeable future because I was able to sell them my potential. Remember that a 10-minute interview can lead to a lifetime of success.