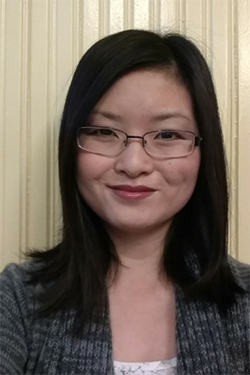 Computer Science major Leah Blake is a senior undergraduate student at Wright State University studying in the College of Engineering and Computer Science. She chose to major in Computer Science due to her avid interest in computers and web design since grade school and believes the computer science field is a good choice due to its promise of constant change and innovation.  Blake decided to attend Wright State due to its location, scholarship offers, and close proximity to the Wright Patt Air Force Base and local department of defense contracting companies.  
After attending the Air Force Museum Internship Career Fair in 2015, Blake was offered an internship position with the National Air and Space Intelligence Center at WPAFB. Employing more than 3,000 personnel, NASIC creates integrated, predictive intelligence in the air, space, and cyberspace domains for the Department of Defense, which enables military operations, force modernization, and policymaking.  
Now over one year into her internship, Blake serves as an IT Specialist where she does web applications development for national security purposes. Through her internship experience, she has gained invaluable knowledge of web development and has learned how to manage timelines and project deadlines, prioritize tasks, and work more quickly. She appreciates the fact that in lieu of busy work or practice assignments, she actually works on real projects that contribute to the overall mission of NASIC. Her hard work has not gone unnoticed; her supervisor reports that she is a superior performer who is able to quickly pick up the tools and technologies used for web application development and apply them to solve real challenges. In fact, her excellent work ethic has paid off, as NASIC has recently offered to turn her internship into a full-time job upon graduation this spring.  
For students interested in doing an internship, Blake stresses that it is important to attend career fairs and have a personable elevator pitch prepared, which is essential to help you stand out from the stack of resumes. She goes on to explain that most companies do not expect a vast depth of knowledge or skills from interns; instead, they expect trainability and a willingness to learn.  Blake closes her advice by asserting, "People hire people they want to work with – so be professional and be courteous."