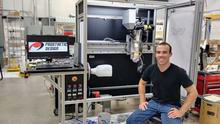 Student-athlete and recent graduate Sean Saffle is a stellar example of a student who learned how to do it all: a competitive runner in Division I Athletics, full-time student, and engineering intern.  A Biomedical Engineering major, Saffle was drawn to the biomedical field due to a desire to help people with technological advancements and breakthroughs in the medical industry. Seeking an internship opportunity, Saffle attended a Wright State University career fair and soon after landed an interview and a job offer from Prosthetic Design, Inc, a company dedicated to the development and refining of prosthetic manufacturing, assembly, and adjustability for the clinician, technician, and patient. In addition to working with lower extremity amputees, Prosthetic Design also has a side company, Montgomery Motorsports, which designs and produces carbon fiber parts for motorcycles; Saffle shares that both businesses require the same principles learned in BME classes. Saffle was excited by this opportunity work for Prosthetic Design as they provide him the opportunity to work with lower extremity amputees every day, which is an area of biomedical engineering of particular interest to him. Through his Prosthetic Design internship experience, he was exposed to many different types of materials, interacted with other companies, and gained invaluable business and leadership experience.  He additionally learned how to design a product and see it through to implementation. 
After a year and half of interning with Prosthetic Design, just prior to his Spring 2017 graduation, Saffle was offered a full-time position as a Composite Engineer, which he happily accepted. He shares that there were a number of strategies he utilized to prove his value to the company: He didn't just focus on his work projects while on the clock, he continued his work on his own time as well, completing additional design work and research at home. He continued to pursue his avid interest in 3D printing that helped him land his internship in the first place and believes that his knowledge of using and repairing 3D printers for prototyping and final product production played a significant role in earning a full-time position. Saffle's dedication off the clock and expertise in 3D printing demonstrated self-motivation and passion for the work, skills that employers greatly value. He is now supervising the manufacturing and assembly technicians and prepares standard operating procedures, plans schedules, and checks the quality of parts. He additionally researches and tests various materials such as resins, carbon fibers, plastics, and metals. He reports that he uses CAD software almost daily to design new parts and test prototypes with 3D printing before mass production.
Hard work, perseverance, and staying the course helped Saffle reach the ultimate outcome: graduating with a degree with a great job already lined up. When asked for his advice for other CECS students, Saffle recommends that in addition to persistence and hard work, students should pursue related hobbies and interests (such as 3D printing) as much as possible because these extra skill areas on a resume can make you stand out as a unique candidate and can help you land a job.