Innovation Abounds in the College of Engineering and Computer Science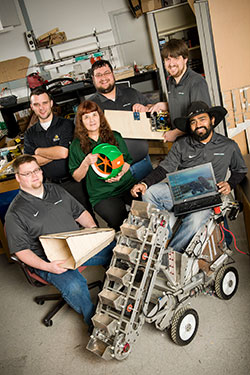 All CECS students complete senior design projects. Past designs have been entered in national design contests, used to facilitate human function, and positively influenced the environment. Projects challenge students and exhibit their apt ability to problem-solve, create, and ultimately, innovate.
Learn more in-depth about some research projects in the Design Teams and Research Opportunities brochure (PDF).
Examples of Senior Design Projects
Prosthetic Socket Manufacturing Machine
Moon Buggy
Automated System for Demineralization in Bone
Deep Tissue Injury Treatment with LEDs
Shell Eco-Car
What is the Optimal Symbol Size?
Exercise Chair Design
Human Powered Vehicle Competition
Third World Country Incubator
Facial Hemangioma Phantom Project

Autonomous Lawnmower

SAE Mini Baja
"€œJust Think"€-Application of EEG signals to simple tasks
Multiuser Interactive Networked Campus Simulation (MINCS)
SAE Aero Design Competition
Projects Associated with Local and National Competitions
Society of Automotive Engineers (SAE) Aero Design Competition: The WSU Aero Design Team has consistently placed in the top five nationally in this competition  
Robotic Lawnmower Competition: A collaborative team of CECS students recently placed third in this national competition; currently, students are focused on applying a similar technology to field striping for football, baseball, and soccer.
Human Powered Vehicles Competition CECS engineering students develop bicycles that are advanced in terms of speed, endurance, and cargo capacity; WSU students are strong competitors
Association of Computing Machinery Contest Students have the chance to compete on the local and national level in this programming competition. It culminates in the World Finals of the ACM International Collegiate Programming Contest where over 2000 teams from 88 countries compete.