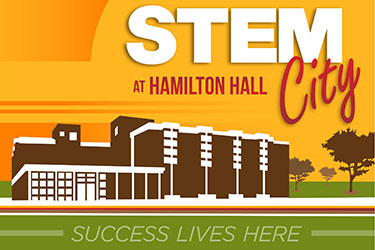 Fun Fact
Students who participate in living-learning communities have higher GPAs, increased first-year success, and are more likely to graduate.
We have created two on-campus living-and-learning communities for students pursuing degrees in science, technology, engineering, and math (STEM). In STEM City, you will live in close proximity to students sharing your interests and classes. STEM City is available to CECS students who live in Hamilton Hall, providing the perfect way to immerse yourself in all the exiting opportunities CECS and Wright State have to offer.
Additionally, student participating in the Honors Program have the opportunity to live in one of the dedicated engineering and computer science floors in the Honors Community
While living on campus, you can find and interact with other students in your program of study, enjoy campus life, and make lifelong friends.
Visit the Housing website to learn more about housing options at Wright State and to apply for housing.