Materials engineers are on the cutting-edge of technology in virtually every field. Materials science and engineering students learn how to turn raw materials into useful products and technology.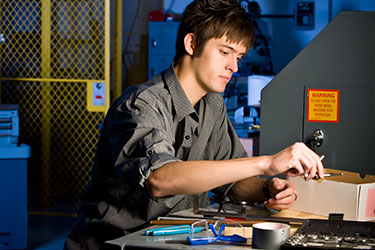 Materials science engineers (MSE) design everything from fuel cells, superconductors, titanium turbine blades, and nanomaterials to graphite fiber tennis rackets, skis, synthetic heart valves, and lithium ion batteries.
Materials engineers are constantly developing and improving materials for new uses and emerging technologies. These include many diverse areas such as improved metals to make safer and more fuel-efficient cars, high-temperature superconductors, new coatings to make fabric waterproof, new ceramic and metallic materials for medical implants, advanced composites for lighter, stronger equipment, and higher frequency lasers for improved fiber optic communication systems.
New technology is creating a need for new materials, which is driving the demand for engineers in the basic materials and advanced research areas of the profession.
---
How to Apply
All students who are interested in an engineering and computer science degree should apply through the Wright State University's Office of Undergraduate Admissions. Applicants should indicate their desired major on their application.
If you meet university admission requirements you are admitted to the college. Direct Admit status is only available to Direct From High School students who apply for fall admission; and have a 3.25 GPA or better and have no less than a 25 Comp ACT or 1160 SAT score. Direct Admit students are advised in the department of their major within the college.
---
ABET Accreditation
Annual Student Enrollment:
40 in Spring 2014
50 in Spring 2015
Graduation Data:
Educational Objectives:
The MSE Program has the three Program Educational Objectives (PEOs) listed below. Graduates of the Materials Science and Engineering Program will:
Objective 1: Be employed in the engineering profession or pursuing graduate studies
Objective 2: Successfully compete in a globally integrated environment
Objective 3: Be engaged in lifelong learning through continuing education and other avenues in a rapidly changing technical environment.
Student Outcomes:
 Students who complete the BS in materials science and engineering will have:
an ability to apply knowledge of mathematics, science and engineering.
an ability to design and conduct experiments, and to analyze and interpret data.
an ability to design a system, component, or process to meet desired needs within realistic constraints such as economic, environmental, social, political, ethical, health and safety, manufacturability, and sustainability.
an ability to function on multidisciplinary teams.
an ability to identify, formulate, and solve engineering problems.
an understanding of professional and ethical responsibility.
an ability to communicate effectively.
the broad education necessary to understand the impact of engineering solutions in a global, economic, environmental, and societal context.
a recognition of the need for, and an ability to engage in life-long learning.
a knowledge of contemporary issues.
an ability to use the techniques, skills, and modern engineering tools necessary for engineering practice.