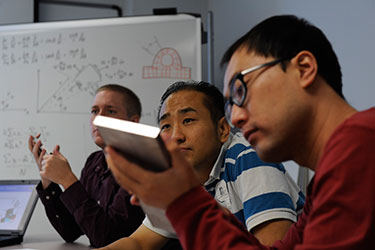 The Department of Mechanical and Materials Engineering offers a graduate program leading to a Master of Science in Aerospace Systems Engineering (MSE). The graduate program is non-traditional by requiring an interdisciplinary minor in an aerospace relevant area.
Facilities
Graduate students have access to a wide range of modern facilities including classrooms, laboratories, and computer systems. Labs include wind tunnels, materials testing labs, structural testing labs, controls labs, etc., per students program of study. Computational facilities include numerous Sun, DEC, and Silicon Graphics fileservers and workstations; X-windowing terminals; and personal computers. Access is also available to the Ohio Super-computer via the Ohio Academic and Research Network (OARNET). Further, many students will leverage proximity to the Air Force Research Lab by using labs and computer equipment at Wright Patterson Air Force Base, subject to Air Force approval.
Research
Research in aerospace engineering is focused on fields of engineering leveraged for application to flight. Depending on faculty support, funding and interest of the student, students may participate in the Micro Air Vehicles lab, the Center for Product Reliability and Optimization, or one of the other labs in the college.
Collaborations
The Dayton Area Graduate Studies Institute provides collaboration opportunities through the graduate engineering courses, faculty, and research resources of the Air Force Institute of Technology, the University of Dayton, The Ohio State University, and the University of Cincinnati.
Graduate Assistantships
Assistantships are available to students on a competitive basis. Students awarded assistantship support are eligible for stipends and remission of tuition fees. Interest in financial support should be indicated at the time of application.
Admission
Minimum Entrance Requirements
GRE required: 158(740)Q, 146(400)V,  3.5 (A)
3.4 Undergraduate GPA
89 TOEFL or 6.5 IELTS (scores should be sent to the Wright State International Gateway Office - 244 Student Union - 3640 Colonel Glenn Hwy - Dayton, OH 45435)
Three letters of recommendation
How to Apply
Graduate students should apply for admission through Wright State's Graduate School.
Degree Requirements
Students should plan a program of study in consultation with the department chair. The program of study should be finalized by the time the student completes 9 credit hours of graduate study.
The following requirements must be met for the Master of Science in Engineering degree:
Completion of 30 graduate credit hours in courses that have prior approval by an engineering graduate advisor and program director.
Two courses to be chosen from:

ME 7340 Advanced Computational Fluid Dynamics
ME 7120 Applications of Finite Element Methods
ME 7080 Multidisciplinary Structural Optimization

Two courses to be chosen from:

ME 6330 Compressible Fluid Flow
ME 6340 Simulation of Thermal-Fluids Problems with Advanced Engineering Software
ME  6350 Mechanics of Viscous Fluids
ME 6430 Aeronautics
ME 6440 Aerospace Propulsion
ME  6490 Aerospace Structures
ME  6120 Finite Elements

A two-course sub-specialty sequence, at least one of which must be at the 7xxx level in:

Industrial and Human Systems
Sensors and Signals
Materials and Nanotechnology
Controls and Robotics
Computer Science
Medical/Biological Systems

MTH 5040 Advanced Engineering Mathematics
9 credits of thesis, or 9 credits of additional electives at the graduate level
Students must choose either a thesis option or advanced course work option. Students employed as teaching or research assistants through the Graduate School at any time during their degree candidacy must choose the thesis option.
Thesis Option: A thesis satisfying all requirements of the School of Graduate Studies must be completed and successfully defended in an oral examination before the major committee. Up to 9 credit hours of thesis, may count toward degree requirements of 30 total graduate credit hours. Thesis wll be registered in the home department of the advisor.
Course Option: At least 15 hours of coursework must be completed at the 7xxx level.
Please contact Dr. Joseph Slater, joseph.slater@wright.edu, for additional program information.