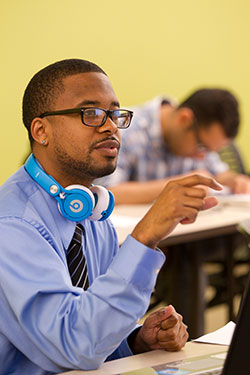 Contact Us
Interested in visiting the Wright State University campus for more information on the PhD in Engineering Program? Contact the Program Director for more information.
Department:
Biomed Indust & Human Factor Engr
Title:
Associate Professor - Biomedical, Industrial & Human Factors Engineering
Address:
Russ Engineering Center 207, 3640 Colonel Glenn Hwy, Dayton, OH 45435-0001
Message from the Director
Dear Potential PhD Candidate:
Let me be among the first to say, "Welcome to Wright State University!"
On behalf of the College of Engineering and Computer Science, I want to thank you for visiting our website and for your interest in our doctoral program in engineering.
To get a flavor of what the PhD in Engineering Program at Wright State is all about, I invite you to browse through the entire program site. Although this section has been specifically prepared for you, the prospective student, you may find it worthwhile to visit other areas of the site, especially the section for current students. I am confident that you will be impressed with what you see and learn about us.
Our program offers students a world-class education through a curriculum that crosses the traditional boundaries of engineering to expand the student's breadth of engineering knowledge and through the expertise of our graduate engineering faculty - many of whom are considered as leading researchers in their chosen fields.
In addition, there are many opportunities available for students to collaborate on research. Through the Dayton Area Graduate Studies Institute, WSU students have access to leading research experts from other universities, government and industry. (Did you know that the Miami Valley region of Ohio contains one of the highest concentrations of engineers and scientists anywhere in the world? And that one of the nation's top air force bases is located almost in our own backyard?)
I trust that you will find this site to be most informative and user-friendly. Furthermore, I wish you much success in your pursuit of advanced studies in engineering.
Sincerely,
Frank W. Ciarallo, PhD
Director