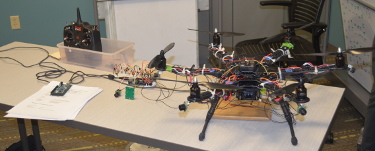 Electrical and computer engineering technologists bridge the gap between design and implementation, research and development, and transition and operation. They are involved in the design, development, and sustainment of technology solutions that touch every aspect of modern life, from manufacturing to medical devices, from avionics to automotive, from wireless devices to financial services.
The degree in electrical & computer engineering technology provides students with a comprehensive skill set in programming as well as electrical and computer engineering design and implementation with more modest requirements for study of mathematics and the basic sciences than traditional electrical and computer engineering programs.
Program requirements include coursework in the following areas.
Circuits and electronic devices
Control systems
C/C++ programming
Programmable logic controllers
Embedded systems
Capstone design
The first two years of the B.S. in Electrical & Computer Engineering Technology is aligned with the B.S. in Electrical Engineering, permitting students to seamlessly transition between the two degree programs before beginning their third year of studies.
Graduates of the program will be prepared to compete for employment in fields tied to hundreds of jobs in the local region and tens of thousands of jobs nationwide.
Areas of relevant local employment include the following.
Sensor development
Manufacturing
Robotics
Power systems
Medical devices
Automotive
Undergraduate Program Guide
 Undergraduate Program Guide (PDF)
---
How to Apply
All students who are interested in an engineering and computer science degree should apply through the Wright State University's Office of Undergraduate Admissions. Applicants should indicate their desired major on their application.
If you meet university admission requirements you are admitted to the college. Direct Admit status is only available to Direct From High School students who apply for fall admission; and have a 3.25 GPA or better and have no less than a 25 Comp ACT or 1160 SAT score. Direct Admit students are advised in the department of their major within the college.
---