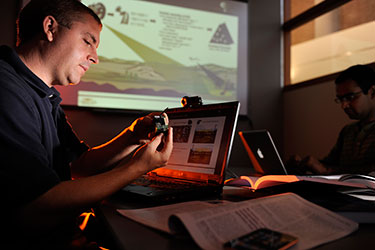 Thank you for your interest in Wright State University's graduate program in Electrical Engineering. The Department of Electrical Engineering offers a Master of Science degree in Engineering with a major in Electrical Engineering. Our Electrical Engineering program is highly respected within industry, and we have placed hundreds of graduates with major international corporations and research institutions.
Students have the opportunity to conduct research in many areas, including robotics, VLSI circuit design, power electronics, microwave theory, control theory, sensor data fusion, and digital signal and image processing. Please visit our research page for more information on the research areas being explored in the department. As a part of its commitment to research, Wright State also offers students state-of-the-art lab facilities.
---
Assistantships & Fellowships
Some departmental teaching assistantships and research assistantships are available. Contact the department for additional information.
Some fellowships are available for US citizens through the Dayton Area Graduate Studies Institute.
Admission
Application Requirements
All prospective students must complete the following steps to apply to the EE Department's MSE program:
Read the School of Graduate Studies' Application Instructions and Requirements
Complete the application for admission (apply online, printable form)
Additional instructions for international students may be obtained from the University Center for International Education
How to Apply
Graduate students should apply for admission through Wright State's Graduate School.
Degree Requirements
The general requirements of the Graduate School for a Master of Science degree are set forth in the graduate catalog. Specific departmental requirements for the MSE degree with a major in Electrical Engineering are given below:
Complete a Program of Study, with approval by the Graduate Program Director by the end of the first term.
Complete at least 30 graduate credit hours (numbered 6000 or above).
Complete at least 24 of the 30 graduate credit hours in Electrical Engineering courses.
Complete at least 18 of the 30 graduate credit hours in courses numbered 7000 level or higher, with at least 12 credit hours in Electrical Engineering.
At most 9 credit hours of EE 7990 may be counted toward graduation via a completed Thesis.
At most 2 credit hours of EE 7900 independent study may be counted toward graduation.
At most 8 hours of approved graduate transfer credit may be applied toward graduation.
Elective courses must be selected from an approved list available from the EE department.
No more than 6 credit hours of C grades are allowed for graduation. Of these, no more than 2 credit hours of C grades in Labs are allowed for graduation.
A minimum GPA of 3.0 is required for graduation.
Complete at least three (3) courses from one of the major areas (see handook). At least two out of these three courses must be at the 7000-level.