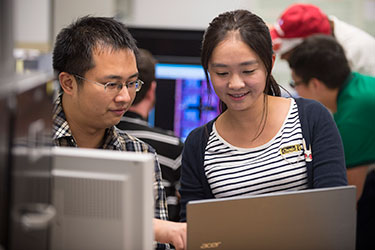 This minor allows you to bring an understanding of databases, programming and networks to any discipline. You can pair this with any degree and give yourself a skill set that will set you above others in your field.
You will receive a conceptual foundation of various Computing and Information Technology skills.  This is combined with practical application of these same skills.  To graduate with this minor you will need to have an average GPA of 2.0 for all the minor courses.
---
Minor Courses
CS 1180 Computer Programming I (4 credit hours)
CEG 2350 Intro to Operating Systems (4 credit hours) 
CEG 2400 Introduction to PC Networking (3 credit hours)
CS 3700 Introduction to Oracle/SQL Databases (3 credit hours)
CEG 3400 Intro to Cyber Security (3 credit hours)
One additional CS or CEG Course
Resources
Admission
Current Wright State Students
Submit Major/Minor Change Request form online in WINGS Express. (Select the "Registration and Records" menu and then the "Major/Minor Change Request" option.)
You must have a 2.5 GPA or higher to be accepted.