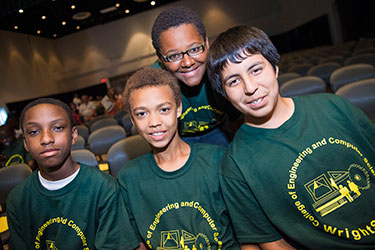 Wright STEPP is Wright State University's Science, Technology, and Engineering Preparatory Program (STEPP). Its mission is to enhance the development and education of youth underrepresented in the fields of engineering, math, and science. The program targets Dayton Public School and Springfield City School students. The program's goal is to increase the number of students from the Dayton Public Schools and the Springfield City schools who graduate from high school with adequate academic preparation to earn their bachelors degree in Science, Technology, Engineering, and Mathematics (STEM).
---
Objectives
Identify, recruit, and select students who demonstrate potential in STEM.
Increase students' awareness of career options for STEM fields.
Increase the cognitive skills of students pursuing careers in STEM.
Provide students access to and interaction with successful role models for industry and education who serve the program in the capacity of speakers, instructors, tour guides, counselors, and mentors.
Demonstrate realities of the workplace through tours and other local industry experiences.
Provide laboratory experiences and academic instruction similar to what students will encounter in the first year of STEM study.
Provide educational enrichment opportunities that motivate students to pursue STEM disciplines.
Encourage completion of the college preparatory courses in the public school system.
---
The four-week program is conducted on the campus of Wright State University. Students are on campus six hours each day, Monday through Friday. The program starts in mid-June and ends in mid-July.
Content
Hands-on STEM academic enrichment
Logic and applications to mathematics
Problem solving and study skills development
Role model speakers
Computer Science introduction
Communication skills
Mathematics

algebra
geometry
trigonometry
pre-calculus

Career opportunities awareness
Field trips/tours
STEM seminars
---
Funding and History
In 1988 and 1989 total funding was provided by Wright State University. Since 1990, additional funding of in-kind service has been received for one or more years from Standard Register, General Motors, Department of Energy, Mead Data Central, Ohio Board of Regents, American Association of Blacks in Energy, Corning Glass, Armed Forces Communications-Electronics Association, the Springfield Foundation, the Llewellyn Foundation, the Della Selsor Trust, and the National Science Foundation.
---
Schedule
In January, nominated students must attend a briefing session at Wright State University with a parent or guardian. Program applications will be provided at that time. By mid-February, completed applications are returned to the Wright STEPP Coordinator at the student's school. In March, applicants attend interviews at their schools. In late April and May, final selections are made by the Program Director and students are notified by mail.
---
Admission
Wright STEPP has an agreement with Dayton Public and Springfield City Schools to accept seventh through tenth grade students from the participating schools.
Interested students should contact the WRIGHT STEPP Coordinator at their school.
A maximum of 45 students per grade (grades 7-10) are enrolled each year.
---
Recruiting
The WRIGHT STEPP target group is seventh through tenth grade students in participating Dayton Public and Springfield City Schools. Participants must be nominated by their math and science teachers, attend a briefing with their parents, complete an application, write an essay, and complete an interview. Forty-five new students from the seventh grade are selected each year. A small number of students from grades 8-10 are selected to fill empty slots made available through attrition from the previous summer¹s students who do not return to the program.
Approximately 180 students attend the program each summer. Participants are eligible to receive full tuition (four year) scholarships to Wright State University if they successfully complete four summers of participation in the program, and meet specified academic criteria in high school.
---
Partners
Wright State University
Local Industry

Standard Register
Armed Forces Communications-Electronics Association (AFCEA)
The Springfield Foundation
The Llewellyn Foundation
The Della Selsor Trust

PreK-8

 Belle Haven PreK-8 School
 Cleveland PreK-8 School
 E. J. Brown PreK-8 School
 Eastmont PreK-8 School
 Edison PreK-8 School
 Franklin Montessori School
 Horace Mann PreK-8 School
 Kemp PreK-8 School
 Kiser PreK-8 School
 Louise Troy PreK-8 School
 Meadowdale PreK-8 School
 Patterson Kennedy PreK-8 School
 Rosa Parks PreK-8 School
 Ruskin PreK-8 School
 Valerie PreK-8 School
 Westwood PreK-8 School
 Wogaman PreK-8 School
 World of Wonder
Middle Schools
High Schools

Thurgood Marshall High School

Springfield City Schools

Schaefer Middle School
Roosevelt Middle School
Hayward Middle School
---
Resources