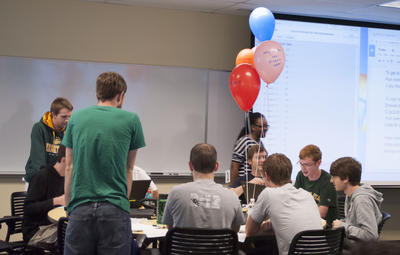 The three top teams from our ACM programming contest competed in the 2015 East Central NA Regional Contest on October 31, 2015. They were up against teams from Ohio State University, Miami University, and Purdue University among others.
Overall our teams held their own. The Wright Team consisting of Paul Fuchs, Aidan Cole, and Josh Childers along with The Irish Wristwatches consisting of Matthew Hangen, Matthew Weber, and Anthony Botting were tied for 6th place. This put them ahead of three of the four Purdue University and Ohio State University teams.
The Phreshmen team consisting of Daniel Schmidt, Ashley Roselius, and Samuel McCamey successfully beat out teams from Ohio State University, Purdue University, and University of Dayton to come in 20th. Congratulations to all.