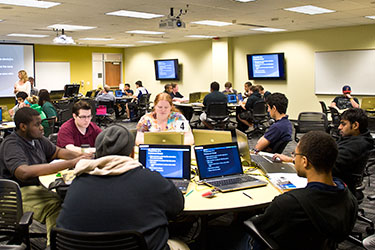 Apply your knowledge of software and programming to your passion
Our Bachelor of Art in Computer Science degree gives you the flexibility to incorporate a wide range of interests. You will still focus on software and software systems and also learn how to apply that knowledge.
This degree in computer science will allow you to work in many industries. Computer systems analysis and design, programming, network administration and web site development are a few areas you can explore.
The program allows for the greatest flexibility of course study. You will develop a broad understanding of many disciplines. Including the application of technology and computers in these fields. Our graduates can pursue a wide array of careers.  
Job Spotlight from the Bureau of Labor Statistics
2016 Median Pay - $87,220 per year
Entry Level Education – Bachelor's degree
Jobs in 2016 – 600,500
Projected Jobs in 2026 – 653,500
2016 Median Pay - $66,130 per year
Entry Level Education – Associate's degree
Jobs in 2016 – 162,900
Projected Jobs in 2026 – 184,200
2016 Median Pay - $135,800 per year
Entry Level Education - Bachelor's degree
Jobs in 2016 - 367,600
Projected Jobs in 2024 - 411,400
---
Program Options
Customize this degree to meet your specifications. You can explore your options here.
Program Guide
We will revise our programs to keep them as current as possible. Your advisor will go over your options if there is a change. 
How to Apply
All students who are interested in an engineering and computer science degree should apply through the Wright State University's Office of Undergraduate Admissions. Applicants should indicate their desired major on their application.
If you meet university admission requirements you are admitted to the college. Direct Admit status is only available to Direct From High School students who apply for fall admission; and have a 3.25 GPA or better and have no less than a 25 Comp ACT or 1160 SAT score. Direct Admit students are advised in the department of their major within the college.
---
High School classes that will help with your undergraduate degree include:
Mathematics: College Algebra/Trigonometry, Probability/Statistics, Geometric proofs
Science: Biology, Chemistry, Physics, and other subjects utilizing the scientific method
English: Formal argumentation, critical thinking, clear communication of intent
Computer Programming
You can also check out College Credit Plus options.
Focus Areas
If you are not looking for a dual program or minor you can still customize the Bachelor of Arts in Computer Science degree. You can take electives that will give you an understanding of business or music.
Music
Arts/Humanities
CS/CEG Electives
MUS 4650 Computer Applications in Music*
General Electives
Music Theory
MUS 1010 Theory of Music I
MUS 1020 Theory of Music II
MUS 2010 Theory of Music III
MUS 2020 Theory of Music IV
Sight Singing
MUS 1510 Musicianship I
MUS 1520 Musicianship II
MUS 2510 Musicianship III
MUS 2520 Musicianship IV
Keyboard
MUS 1550 Keyboard Musicianship I
MUS 1560 Keyboard Musicianship II
4 Semesters Applied Music
4 Semesters Ensemble
4 semesters Recitals
Business
If you choose to complete the Business Minor please apply and satisfy the requirements
Additional Core Courses
EC 2040 Principles of Microeconomics*
General Electives
ACC 2010 Accounting Principles*
MGT 3100 Leadership, Management and Organizational Behavior*
MKT 2500 Principles of Marketing*
Pick One
FIN 2050 Personal Financial Decision
FIN 2210 Financial Management
To complete a Business Minor pick one
ACC 2020 Accounting Principles II
EC 2050 Principles of Macroeconomics
FIN 2210 Financial Management (if not picked above)
MS 2040 Intro to Bus Statistics
MS 2050 Quantitative Business Modeling
Or 1 3000 level course
Fast Track Program
Increase your earning potential
Already have a Bachelor of Arts degree? You can streamline the Bachelor of Arts in Computer Science degree requirements and get a second degree. It is possible to walk out with your second degree and practical experience in as few as four semesters. The department will also assist with paid internship opportunities if you have a 3.0 GPA or higher
Program pre-requisites
Complete or have completed the core mathematical courses (elementary statistics course and social science calculus)
Complete or have completed Introduction to Compute Science I (CS1180), a comparable course, or equal assessed experience.
Program Guide
Cost of School
There are many ways to offset the cost of your degree. With our program, you will be eligible for paid internships starting your sophomore year. There are also scholarships and other financial aid options. For more information check out the university's financial aid section.
Objectives and Outcomes
Objectives
Program educational objectives describe what graduates are expected to attain within a few years after graduation.  Three to five years after matriculation, graduates of our Bachelors of Arts in Computer Science program will be:
Expert: Graduates of the Computer Science program are employable as computing professionals and will be recognized by their employers as well-prepared for their career in computing.
Adaptive: Graduates understand that education is a lifelong process and are well prepared for continuing studies.
Engaged: Graduates demonstrate an appreciation for the professional, social, ethical, and leadership roles of computing professionals.
Applied: Graduates can apply computing and software development principles to a diverse range of domains, such as analytics, data science, informatics, management, etc.
Outcomes
Students who complete the Bachelor of Arts in Computer Science will have:
an ability to apply knowledge of computing and mathematics appropriate to the discipline.
an ability to analyze a problem, and identify and define the computing requirements appropriate to its solution.
an ability to design, implement, and evaluate a computer-based system, process,component, or program to meet desired needs.
an ability to function effectively on teams to accomplish a common goal..
an understanding of professional, ethical, legal, security and social issues and responsibilities.
an ability to communicate effectively with a range of audiences. 
an ability to analyze the local and global impact of computing on individuals, organizations, and society.
recognition of the need for, and an ability to engage in continuing professional development.
an ability to use current techniques, skills, and tools necessary for computing practice.
An ability to apply mathematical foundations, algorithmic principles, and computer science theory in the modeling and design of computer-based systems in a way that demonstrates comprehension of the tradeoffs involved in design choices.
an ability to apply design and development principles in the construction of software systems of varying complexity.