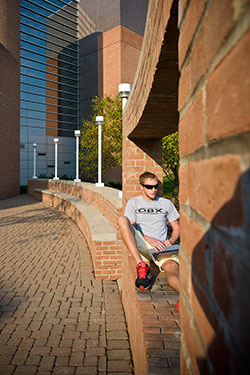 The Department of Computer Science and Engineering has teamed up with the Department of Religion, Philosophy, and Classics. We are excited to offer you an opportunity to obtain a Bachelor of Arts degree in both Computer Science and Philosophy. This combines the best of both degrees allowing you to complete the program in the same timeframe as a single degree.
The Bachelor of Arts in Computer Science program prepares students for careers in computer systems analysis and design, programming, network administration and web site development. The Bachelor of Arts program allows for maximum flexibility of course study with fewer requirements in high level math and science. Our Graduates can pursue a wide array of careers and develop a broad understanding of multiple disciplines and the application of technology and computer in these fields.
The study of philosophy will prepare you for a variety of interesting and profitable careers. It develops critical thinking, effective argumentation, intelligent decision-making, clear and persuasive writing—just the skills in high-demand by employers. Many philosophy students also go on to excel in various graduate programs, including those in business and law.
How to Apply
All students who are interested in an engineering and computer science degree should apply through the Wright State University's Office of Undergraduate Admissions. Applicants should indicate their desired major on their application.
If you meet university admission requirements you are admitted to the college. Direct Admit status is only available to Direct From High School students who apply for fall admission; and have a 3.25 GPA or better and have no less than a 25 Comp ACT or 1160 SAT score. Direct Admit students are advised in the department of their major within the college.
---
Required Courses
Computer Science Courses (21 hours)
CS 1150 Intro to Computer Science
CS 1180 Computer Science I
CS 1181 Computer Science II
CS 2800 Web Design Fundamentals
CS 3100 Data Structures and Algorithms
CS 3700 Intro to Oracle/SQL Databases
Computer Engineering Courses (14 hours)
CEG 2350 Operating Systems Concepts and Usage
CEG 2400 Introduction to PC Networking
CEG 3120 Intro to Design of Info Tech Systems
CEG 3310 Computer Organization
CS/CEG Electives (18 hours)
At least 12 hours must be at the 4000 level
Philosophy and Writing Courses (27 hours)
LAN 1010 Beginning Language I
LAN 1020 Beginning Language II
LAN 2010 Intermediate Language I
LAN 2020 Intermediate Language II
PHL Area 1
PHL Area 2
PHL Area 3
PHL Area 4
ENG 2130 Research Writing and Argument: Sciences or EGR 3350 Tech Comm for EGR & CS
Mathematics and Statistics Courses (12 hours)
MTH 2570 Discrete Math for Computing or CS 2200 Discrete Structures & Their Algorithms
MTH 2240 Applied Calculus or MTH 2280 Business Calculus
STT 1600 Statistical Concepts
General Electives
Electives from any area of study approved by the Department of Computer Science and Engineering
Wright State Core (40 hours)
Program Guide
Objectives and Outcomes
Objectives
Program educational objectives describe what graduates are expected to attain within a few years after graduation.  Three to five years after matriculation, graduates of our Bachelors of Arts in Computer Science program will be:
Expert: Graduates of the Computer Science program are employable as computing professionals and will be recognized by their employers as well-prepared for their career in computing.
Adaptive: Graduates understand that education is a lifelong process and are well prepared for continuing studies.
Engaged: Graduates demonstrate an appreciation for the professional, social, ethical, and leadership roles of computing professionals.
Applied: Graduates can apply computing and software development principles to a diverse range of domains, such as analytics, data science, informatics, management, etc.
Outcomes
Students who complete the Bachelor of Arts in Computer Science will have:
an ability to apply knowledge of computing and mathematics appropriate to the discipline.
an ability to analyze a problem, and identify and define the computing requirements appropriate to its solution.
an ability to design, implement, and evaluate a computer-based system, process,component, or program to meet desired needs.
an ability to function effectively on teams to accomplish a common goal..
an understanding of professional, ethical, legal, security and social issues and responsibilities.
an ability to communicate effectively with a range of audiences. 
an ability to analyze the local and global impact of computing on individuals, organizations, and society.
recognition of the need for, and an ability to engage in continuing professional development.
an ability to use current techniques, skills, and tools necessary for computing practice.
An ability to apply mathematical foundations, algorithmic principles, and computer science theory in the modeling and design of computer-based systems in a way that demonstrates comprehension of the tradeoffs involved in design choices.
an ability to apply design and development principles in the construction of software systems of varying complexity.